Swift-Foot Pedal Troubleshooting
Updated 30th Sep 2022
Check the foot pedals are connected
If the foot pedals are being recognised by Swift, a green tick will show under the audio player.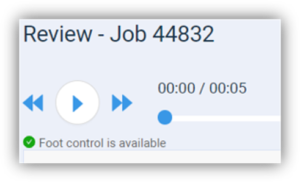 If the green tick doesn't show, ensure the foot pedals are plugged in properly. Please note that only Infinity / Olympus foot pedals can be used with Swift.
Check the foot pedals are assigned the correct functions
If the foot pedals are recognised but are not performing the correct functions, open the Swift Settings menu, then select 'foot pedal'.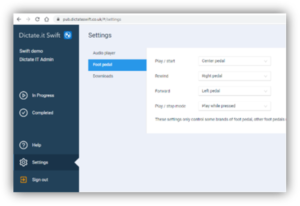 Change all values to 'None', log out and log back in and change them to the desired settings and then test it again with a couple of letters.
Check the foot pedals function with all systems
If your foot pedals work with Swift but no longer work with other systems, restart your PC. The foot pedals should then work with all applications.