Swift-User Guide – Desktop Dictation
Updated 30th Sep 2022
To dictate letters via a desktop microphone using Swift, the integration broker must be installed on your desktop PC. The integration broker is a small piece of software that simply allows Swift to talk to your clinical system. Refer to our installation guide.
1. Log in to the web-based portal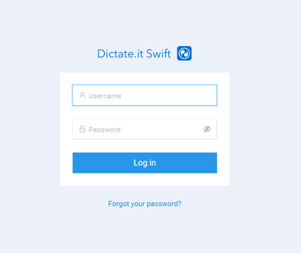 2. To create a New letter, please click on the 'New Letter' tab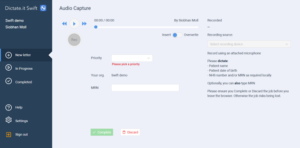 3. Click the red icon to start recording. When your letter is being dictated, it will show in the secretarial team's portal with the status 'audio capture'. Watch the volume indicator to ensure your speech is being picked up.

4. Click the red icon to stop recording.

Top tip! Edit your recording using the editing modes 'Ins' (insert) and 'Ovr' (overwrite).

5. Click the 'Complete' button. Once completed, your letter will show in the secretarial team's portal within the 'In Progress' list. The letter will initially show with the status 'processing'. When the text has been transcribed, the letter will then change in status to 'review'.


Top tip! If you do not require your letter to be reviewed and distributed by the secretarial team – for example if you are creating a letter as a test or in error – select the 'discard' button at this stage instead of 'complete'.